---
Dental Tourism Vacations
Many tourists from the United States, Canada and Western Europe actually vacation for free by saving money on dental treatments that cost a fraction of what they pay in their home countries. People often say that medical treatment is superior in the U.S., but, no longer...The myth that American medical care is somehow superior to everywhere else has been shattered. In reality, the only thing superior about American medical care is the high cost. Panamanian doctors study in medical school for four years, then intern at a government hospital for another 2 years. Specialty doctors do post graduate studies for another two years minimum. Our dental team is constantly attending seminars and clinics to keep us up to date on the newest innovations in the dental industry.
Whether you are moving to Panama or you are planning a vacation to Panama, you can have your dental work done and take advantage of the reduced costs. Doctor Serrano combines education, experience, and a gentle touch to provide her patients with exceptional cosmetic and restorative dental care. She and her staff take the fear and anxiety out of dentistry to give you a comfortable and pleasant dental experience. Our dental work comes with a 5 year guarantee.
Chiriqui Panama Tours and Attractions:
In the Chiriqui providence, at the western tip of the republic of Panama, lies an undiscovered tropical mountain paradise brimming with promises of wildlife, adventure, exotic culture and enchanting mountain villages as well as several popular beaches in Las Lajas and Playa La Barqueta.
The town of Volcán is a charming mountain community located at the foothills of the Baru Volcano. This alpine village is nestled in the Chiriquí highlands "A land of eternal spring" with a diverse combination of rainforest, lush emerald green meadows, springs, rivers, waterfalls, high mountain lakes, coffee plantations, vegetable & flower farms, dairy farms, racehorse and cattle ranches.

Boquette is a small mountain village on the slope of Volcan Baru with quaint accommodations, restaurants with local and international cuisine. The climate is cool and fresh all year round. There are coffee plantation tours, a zip line canopy tour, river rapids tours, a private estate with elaborate flower gardens you are welcome to visit. Swimming and fishing are popular in the many mountain streams. The nearby 14,300 hectare Volcan Baru National Park has many excellent hiking trails. Boquette is 20 miles from David on a good paved road.

Boca Chica just 1 hour by land or water taxi is the gateway to the Chiriqui Marine Park. World Class Sport Fishing, tours to Isla Coiba National Park, scuba diving, snorkeling, beach-combing, bird watching and much more. If you have several days between appointments maybe you would enjoy staying at Gone Fishing Panama Resort and doing some of the many activities they offer. For more information on accommodations and tours Click Here

David, Panama Accommodations: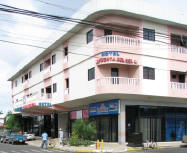 Hotel Puerta Del Sol
Cl. 3era.este Ave. Central, Chiriqui PA, 507-774-8422 - email puertadelsol@cwpanama.net
Clean, nice big rooms, air conditioning, cable TV, great food service downstairs and a perfect central location. $29.70 for a queen bed, $35.20 for 2 beds, and $40.80 with three beds. Internet is $1 for 30 minutes.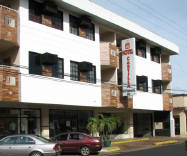 Hotel Castilla
Diagonal Al Parque Cervantes, Chiriqui PA, 507-774-5262 - email inmisa@cwp.pa
In the center of the city, close to shopping, restaurants, casinos and other basic services. Clean elegantly furnished rooms with AC, private bath with hot water, cable TV, telephone, room service.
$27.00 one double bed, $37.00 for two double beds, and $47 to handle three people. Internet is $1 for 30 minutes.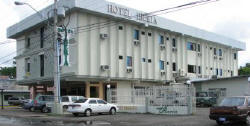 Hotel Iberia
Telephone (507) 777-2002 * 775-7395 - email hoteliberia@cwpanama.net
Clean rooms with air conditioning, private bath with hot water, cable TV, room service.
The prices here are $27,30, $33.00, and $41.80. No Internet.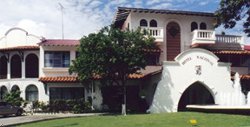 Hotel Casino Gran Nacional : (507) 775-2221 - Phone: (507) 775-2222
Fax: (507) 775-7729 - email hotnacional@cwpanama.net
Located in the Center of the City of DAVID, Capital of the Chiriqui Province. The Hotel is steps only away from Shops, Banks, Restaurants, offering 75 Rooms and Suites, 3 Restaurants, 6 Movie Cinemas, 24 hour Casino, Green Area with a large Gazebo and Pool, free parking. Kids below 12 stay free. $60
If you need help booking hotels and local flights to/from David, we recommend you contact Luz, the owner of Starlite Travel. email: starlite@cwpanama.net - Luz cell phone: 507-6-613-1102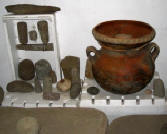 Sitio Barriles is an open window to the past, a place in the Volcán highlands where, during the last 100 years archaeological artifacts have been discovered that are helping to uncover the mysteries of old cultures that inhabited the Volcán Baru area. Located only 6 kms out of the town of Volcán, Sitio Barriles is a thematic garden, where you will find old paintings and engravings on the rocks, ceramic artifacts; some still lying intact in a three sided excavation. What makes this particular site so interesting to archaeologists is the mix of artifacts that show influences of Indian, Oriental and African cultures. The people living there are direct descendants of the family who discovered the first of the artifacts and are more than willing to share their special insights of the history and mysteries of the region with guests.
(2 hrs.) Click For More Information & Photos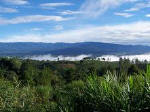 Parque Internacional de La Amistad (Friendship Park): Established jointly by Panama & Costa Rica it is the largest highland forest in Central America (407,000-hectares). The park is mostly mountainous, and because of the elevation changes, a great diversity of life zones are found there. La Amistad is made up of protected areas of exceptional biological diversity and beauty. This pristine forest is home to over 90 mammal species including jaguars and pumas. Among the more than 400 recorded bird species found there are the resplendent quetzals and harpy eagles (The harpy eagle has claws as big as a Grizzly bear's and legs as thick as a man's wrist!). It is also home to the Teribe, Bribri and the Ngöbe-Buglí Indian tribes.

There are 3 main trails that originate at the Las Nubes ranger station:

Mirador la Nevera (1.4 km) trail which leads to a lookout point at 2500 meters.

Sendero La Cascada (1.7 km) trail which leads to a 45-meter high waterfall with refreshing swimming pools. This is a fairly steep climb with many breathtaking views of the cloud forest. (3 hrs)

Sendero El Retoño (Rebirth Trail) is a 2.1 km loop trail through secondary forest along winding mountain streams. A fairly easy hike through the cloud forest. (3 hrs)

The Las Nubes ranger station has dormitory sleeping quarters for $5 per person. Park fees are $3 per person (reservations highly recommended). There is a community kitchen guests are welcome to use. You can stock up on provisions in Volcán or Cerro Punta. A local women's co-op restaurant near the entrance to the park is open from 9am to 4pm Monday thru Saturday. Be sure to bring warm clothing as temperatures can range from 75ºF to 40ºF at night.
(Day tour: 6 hrs.)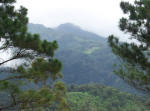 Parque Nacional Volcán Baru: founded in 1976 covers 14,325 hectares (35,000 acres) and has 3 types of life zones. Volcán Baru is no longer active. Its summit at 3475 meters (11,000 feet) is the highest point in Panama. In this park you will find tropical rainforest landscapes with highland species and the remains of the eruption that happened millions of years ago. Upon the summit on a clear morning you can see both the Pacific and the Caribbean oceans. There are several trails leading to different craters of the volcano. An exceptional bird watching area, many species can only be seen in this region. The average temperature ranges from 50ºF to 65ºF.
(Tour duration: 12 hours round trip or 2 days with overnight at the summit.)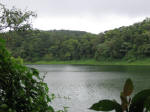 Lagunas de Volcán (1240m) are the highest lake system in Panama, with lush virgin forest at their edges and Volcán Baru rising majestically in the background. The two lakes and surrounding forest are excellent sites for bird watching. The lake has excellent large mouth bass fishing. (3 hrs.)







Finca Dracula Orchid Sanctuary is one of Latin America's finest and most varied orchid collections with more than 2,000 species. (4-5 hrs.)







Sendero Los Quetzales'...a birdwatcher's dream, over 225 species have been recorded. The Quetzales Trail is a 10 kilometer trail from Cerro Punta to Boquete through the national park crossing back and forth over the Rio Caldera.
(4 hrs. birdwatching) (Alizanza: hike Cerro Punta to Boquete 6 hrs.)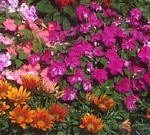 Highland Agricultural Tour: At an altitude of 5,904 feet terrace vegetable fields line the steep mountainsides. With its cool misty climate and rich volcanic soil it produces 80% of Panama's cool weather vegetables. Walk through meticulously tended organic and traditional vegetable farms, flower gardens, racehorse ranches, dairy farms, trout farms, botanical gardens and enjoy the beauty of the surroundings.
(3 Farms, 5 hrs.)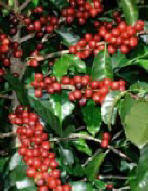 Town tour of Volcán: (5 hrs.)

La Fuente: Volcan community park with a spring and pond
San Benito: Catholic agricultural & craft school with a nice showroom of wood carvings and handicrafts
Sitio Barriles: Indian culture & history.
Arte Cruz Volcán: Jose de la Cruz Gonzalez, a local artist trained in fine arts in Italy and Honduras, creates sculptures and furniture out of wood and etchings on crystal and glass.
Janson Family Coffee: watch how coffee is processed and enjoy a delicious cup of coffee
Vino Don Coba: natural tropical fruit wine
Finca Guardia: horse ranch


Sendero del Tapir: Explore the Tapir Trail looking for these shy animals and many more.
(5-6 hrs.)

Sendero Las Tres Rocas: a beautiful hike to three big rock formations and a lookout platform. A camping site is available nearby. (6-7 hrs. - Overnight camping )

Visit Rio Macho de Monte Waterfall:
(4 hrs.)

Visit the natural hot springs, Los Pozos de Aguas Termales.
(5 hrs.)

Visit the natural spa at the head of the Rio Gariche:
(2 hrs.)
Visit a thoroughbred racehorse ranch:
(4 hrs.)
Visit a Sugar Cane processing plant.
(4 hrs.)

Horseback riding:
Volcan Recommended Hotels:
Finca La Providencia: Charming fully furnished cabins for rent in a rainforest setting. Lush tropical landscaping, flower gardens, nature trails and bird watching in a 5 hectare park like location. Peaceful, private accommodations for 2 to 10 guest per cabin. For prices and availability contact Gorge Babos. Email: laprovi@hotmail.com, Telephone: 011-507-771-5484 * 771-4162 * 6624-9687 * 6651-4777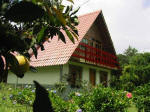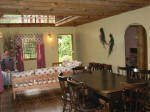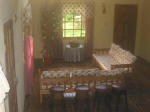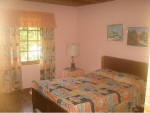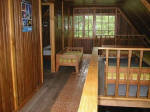 Click For More Photos of Finca La Providencia, Cabaña Zafiro
Getting To Volcan:
Drive westward out of David on the Inter-Americana Highway to the town of Concepción. Turn right at the highway sign that reads Volcán, Guadalupe, Cerro Punta (Also a billboard that points the way to Hotel Bambito). The drive is approximately 20 minutes to Volcán.
English/Spanish speaking guide:
Claudia Flores - Telephone: 011-507-6457-6080 (Van available which accommodates up to 14 people)
Click here to contact Claudia about tours